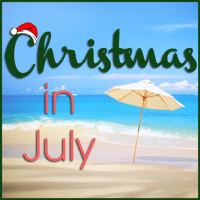 So today I FINALLY get to share with all of you the BEAUTIFUL gift I received for Christmas in July!
For those of you who haven't heard of it, our lovely Hosts - Alyx, Daryl & Cecila paired us off with another blogger so we could play Santa to each other. Click here for the DL...
Here is where the Christmas Colors stop, as I might have let on that I LOVE purple! My not-so-secret-Santa (the adorable Emily from
Sweet Bella Roos
) was more than happy to indulge me! We were supposed to list 5 things we liked to give our partner an idea of what we would enjoy. To be honest I can only remember putting that I loved Purple and I think I mentioned something about good smells - whatever I said she was spot on with absolutely everything and SO GENEROUS! Check out the awesome swag I got in my package:
1. Awesome Apron - Love the Gingham and scallop-trimmed pocket!
2. Scented Candle in English Lavender - bring on the spa tranquility...ohm
3. Nail Polish in this gorgeous Deep Purple - too perfect!
4. Paper Covered Clothespins - how cute are they!!!
5. $10 Gift Certificate to Bath & Body Works - LOVE!
So a big fat THANK YOU to Miss Emily - MAUH I love it all!
Click here to see what everyone else got!